How We Collect:
Three advantages of the direct-connection method are: 1) Values collected and stored in the Tempurity System match those shown on the front panel of the instrument. 2) The inside of the freezer or incubator is free from foreign sensors that could move around or interfere with sample movement or sterility. 3) It is generally lower cost than our competitors because we use existing sensors that are already part of the instrument; in high-end units no "second" sensor is needed.
Quality:
Whether you are required to monitor freezer temperatures by the FDA, or whether you have critical, hard-to-replace cells or compounds, the Networked Robotics Tempurity System gives you the reliability you need.
Flexibility:
The Tempurity System is network distributable. That means that any Windows computer can collect temperatures from any Tempurity-connected device on the network. This means that you can have as many monitoring systems as you want. Call Networked Robotics for a demonstration or quote now.
Networked Robotics takes all types of credit card payments through Google Checkout and Paypal.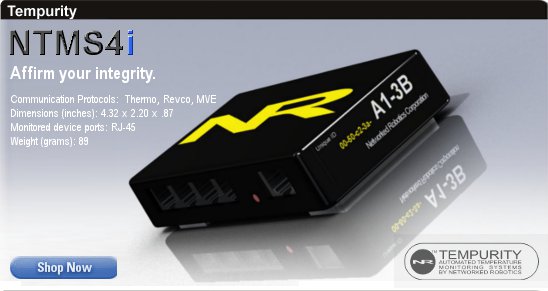 "Like"

our new Facebook page for news about Networked Robotics' hardware and software products, biotech storage links, quality and regulatory compliance links and public commentary.

"Follow" Networked Robotics on Twitter at @NetworkedRoboti (truncated NetworkedRobotics)

.
Read More Information:
About Network Temperature Monitoring | FDA Temperature Monitoring | Incubator Temperature |Freezer Temperature Monitoring
Network Voltage Monitoring | Sample Management | HACCP Temperature Monitoring | NTMS Network Hardware| Network Data Collection
Networked Robotics Corporation, 825 Chicago Ave. Evanston IL 60202 Phone: 877 FRZ-TEMP (877-379-8367)