Networked Robotics Corporation Toll free support

877 FRZ TEMP

877 GLP TEMP

825 Chicago Avenue Suite F, Evanston Il 60202
"Demo.NetworkedRobotics.com" - an Example Tempurity™ Server
Introduction
This document describes how to evaluate the Tempurity System from your location. You will be continually watching the monitored devices such as freezers, incubators, and room temperatures that are physically located in the Chicago area as if they were your own. Data will be displayed in real-time on your Tempurity Monitor screen.
The process of monitoring your freezers is performed by your company. Both Tempurity Servers and Monitors normally are run on your organization's computers.
In this case the Tempurity Server is located at Networked Robotics in Evanston, Illinois and the Tempurity Monitor is downloaded to a computer at your company or university. Your Tempurity Monitor computer communicates constantly, at low bandwidth, with the demo Tempurity Server via the public internet.
The Tempurity System is an internet-based monitoring system. For a description of how it works see the following brief Tempurity architecture overview.
You will simply download the Tempurity Monitor from here to one of your local computers, and leave it running as long as you would like to. Use it to watch the status of the monitored devices (freezers, incubators) on the demo Tempurity Server, some of which are programmed to alarm periodically. You must have access to the internet and an administrator account on your Windows computer. The Tempurity Monitor is visible as a black and white icon

on your system tray (usually on the lower right of your desktop) that you can click and expand at any time to see the status of monitored devices . See the screenshot below.
What is a Tempurity Server?
A Tempurity Server collects data from Networked Robotics' hardware anywhere on the internet and stores it. This data is then available to multiple Tempurity Monitors anywhere on the internet. The Monitors are the main interface to Tempurity data. In a way a Tempurity Server is like a web page, and a Tempurity Monitor is like a browser. Any Tempurity Monitor can talk to any Tempurity Server.
What is this Demo Server?
The demo server is a computer running our Tempurity Server software and located in Networked Robotics' offices in Evanston, Illinois. It is available on the public internet. It is accessed via the public internet domain name "demo.NetworkedRobotics.com" which translates to a public IP address. This demo server is collecting data constantly from diverse monitored devices that have been set up specifically to exhibit Tempurity System function.
Do I Need to Buy Anything to Test?
You can evaluate the main monitoring interface of Tempurity without purchasing anything via the information provided here. In order to evaluate the full data collection capability, ease of installation, and power to collect data from diverse freezers, cryofreezers, and incubators, you will need one of our NTMS units. Call Networked Robotics today to acquire them.
Let's Go!
Networked Robotics recommends that you run through the operation of the Tempurity Monitor while on the phone with someone from our company because we can quickly and easily get you started. There's a webform on our site to let us know that you are interested, or just call us toll free at 877-FRZ-TEMP or you can send us an email to info@networkedrobotics.com. You are free to try on your own though:
From a Windows computer connected to the internet, and from an account with administrator access go the "download" section of the Networked Robotics web page "www.NetworkedRobotics.com/download/" Click on the appropriate link to select the appropriate version for your Windows operating system. During installation use the default parameters. When it asks you for the Tempurity Server name enter:
"demo.networkedrobotics.com"
The Monitor will start automatically. The below shows a screenshot of the French-language version of the Tempurity Monitor.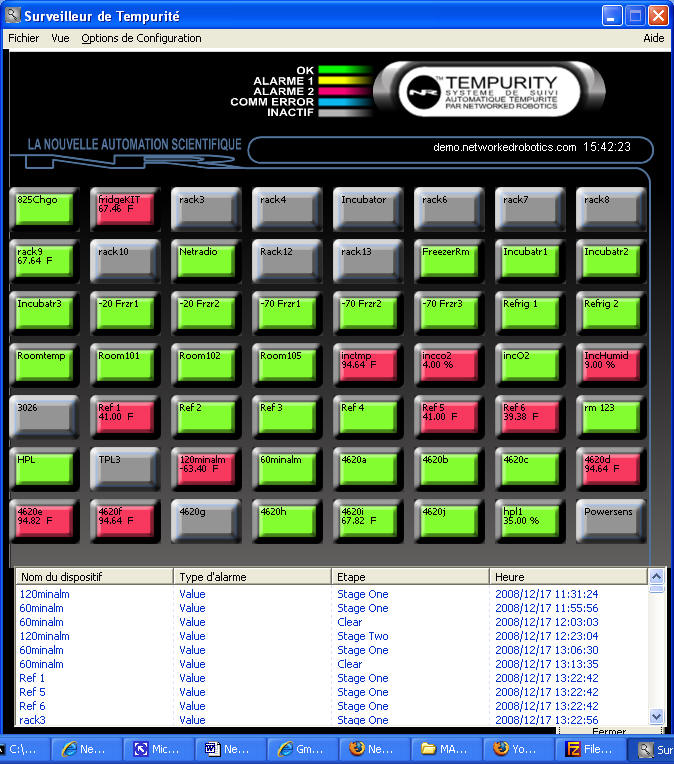 In order to receive alarm notification messages you must create an alarm notification group. Follow the steps in this wizard to define email, text, and phone numbers that will be notified when an alarm occurs on the monitored devices that you select. Test messages will be sent out after the alarm group is created. The computer must be running and the Monitor must be running continuously in order for alarm notifications to be sent. When an alarm condition exists on one of the "monitored devices" you have selected, alarm notifications will be sent.
Helpful Monitored Devices for Testing
The kinds of monitored devices on the demo server change constantly. There are a few that are often present that may be of interest to you.
Several monitored devices are preprogrammed to alarm at 1 hour intervals. You can select these freezers and wait a maximum of an hour for a "real" alarm notification message (as opposed to the test message which is sent immediately).
60minalm enters into a stage one alarm every hour, and then resets

120minalm enters into a stage one alarm the first hour, and a stage two alarm the second alarm hour, and then resets

By defining alarm groups that watch these monitored devices, you can test Tempurity's ability to send alarm notification messages.
There are other monitored devices of all kinds, humidity, temperature, voltage, pressure, both direct connections to scientific instruments and networked sensors. Networked Robotics changes the monitored devices on the demo server often depending on current work.
Leaving it run
The Monitor must be running in order for alarm notifications to be sent. If you want to get alarm notifications, don't close it. Leave your computer running at night. You don't have to be logged in, but your computer must be on.
Be aware that some devices enter alarm range frequently For example the 60minalm device alarms every hour. You would get an alarm notification e-mail every hour if your alarm notification group covered this device.
Feel free to have other people in your organization download and run the same evaluation. Anyone with network access can view data from the Tempurity demo server, even from other locations.
General Review of the Action of the Tempurity Monitor
The Tempurity Monitor is designed to be highly distributed - even a "personal" alarm system. Each user that maintains control of a Tempurity Monitor on any computer specifies his or her "personal" alarm notification criteria. This information is stored on the computer on which the Tempurity Monitor is running in the Windows registry. Alarm notification parameters such as e-mail address, voice phone number, or cell phone provider are under full control of most users. They can change these parameters whenever they want, and thus may be independently responsible for the way that alarm notifications are sent out.